"Sens Solidaires" supports the Elephant Foundation's projects in Kegalle, which aims to protect Sri Lanka's wild and domestic elephants (created in 1999 with the help of WSPA, World Society for the Protection of Animals). In Sri Lanka, there are about 5.000 wild elephants and 200 domestic elephants. The latter mainly participate in Buddhist religious festivals and tourist walks. The number of domestic elephants is declining because Sri Lanka's goal is to leave them to roam freely (not only for ethical reasons but also for financial reasons since it is an expensive elephant to maintain).
The main activities in the volunteers' assignment are:
1. Daily care management of domestic elephants from Kegalle, as well as all the island's domestic elephants living at the Foundation. Following the veterinarian's diagnosis, the Foundation transports all domestic elephants which are sick and abused by their owners free of charge.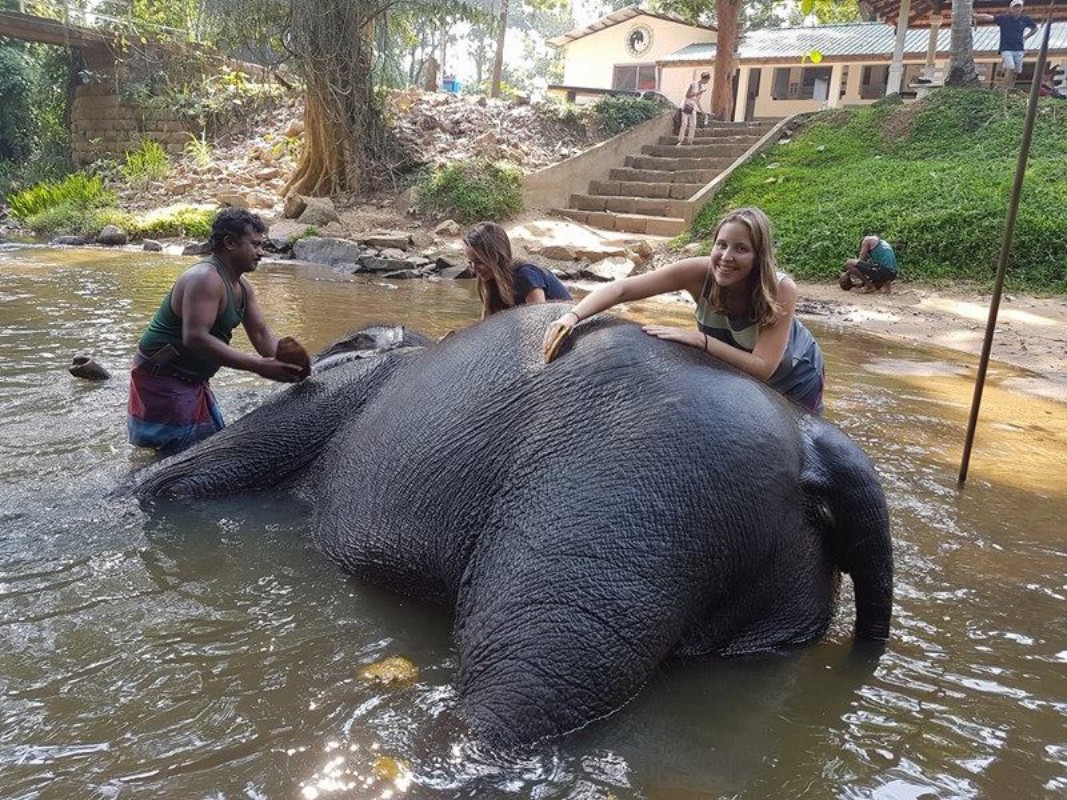 These abused elephants are welcomed to the Foundation for treatment. Upon arrival, an elephant will be assigned to you, and under the guidance of the Mahout your daily duties will comprise working for the elephant's well-being. The daily care involves its diet, medical treatment if necessary, bathing, grooming and cleaning the bedding. As you get to know your elephant, you will also learn to recognize its sounds, movements, moods and feelings, individual characteristics and personality.
You will also learn to detect the signs and symptoms if a disease develops. This requires dedicated and responsible care. Volunteers will be able to assist the veterinarian, and according to the schedule, participate in religious festivals such as the "Perahera" with our friends the elephants.
Other activities in the Foundation : Maintenance of the organic garden, planting fruit trees and medicinal plants to improve the diet of the elephants and the entire community.
More than 60 elephants have been accommodated at the Foundation. Today, 8 females, aged between 21 and 65, are temporarily or permanently at the centre. In order to raise awareness and to improve the situation of Sri Lankan elephants, the centre welcomes volunteers with open arms!
A few elephants from the Foundation.
Lakshmi, her name means "Goddess of Prosperity". She is the star of the center! This 40-year-old elephant has tons of energy and a passion for soft drinks! She gave birth to Sri Lanka's first domesticated elephant, Pooja, who also lives in the centre.
Pooja, born on the 5th of August 1984, weighed 64kg and measured 52cm at birth. Her father, Kandula, was also a domesticated elephant, unfortunately he died in an accident. Although she is now 35 years old, she is still considered as a baby by all the staff. Pooja is stubborn, and she loves to spray herself with the water of the river, thus attracting the attention of her cornac and other elephants.
Rani, arrived at the centre in 2002, although she is approaching her thirties, she is very playful. Her name means "queen" and it suits her very well. With her long legs she is one of the largest elephants in the MEF. Rani enjoys the company of people and especially ladies! Lemon-stuffed cookies are Rani's and Pooja's guilty pleasure.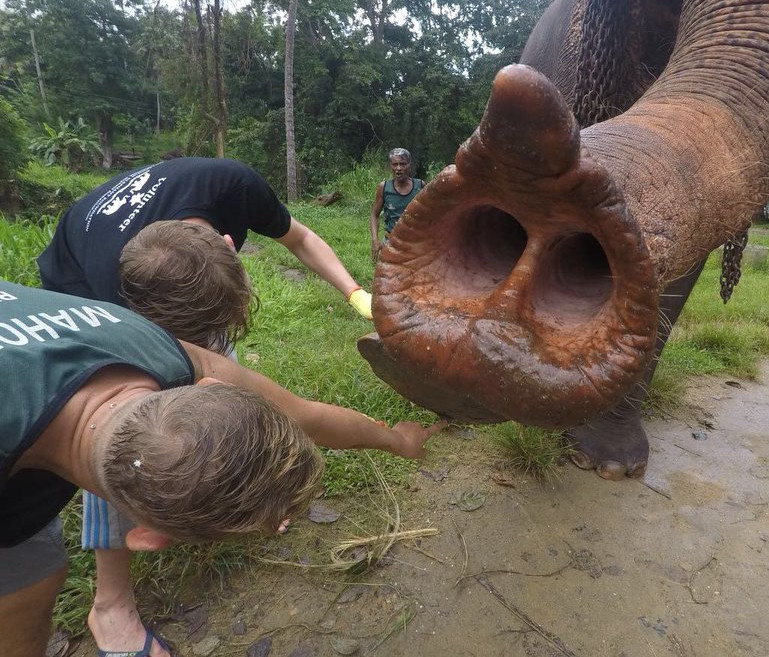 Tikiri Kumari, which means "Little Princess", was born in 1950. She arrived at the centre in 2002 to keep her friend Kumara company when he was being treated for health problems. Tikiri Kumari extremely funny, she loves to throw leaves on her head and play in the river by covering herself with sand. She has also made a friend, Somaliya, and they often try to touch each other when they are close to each other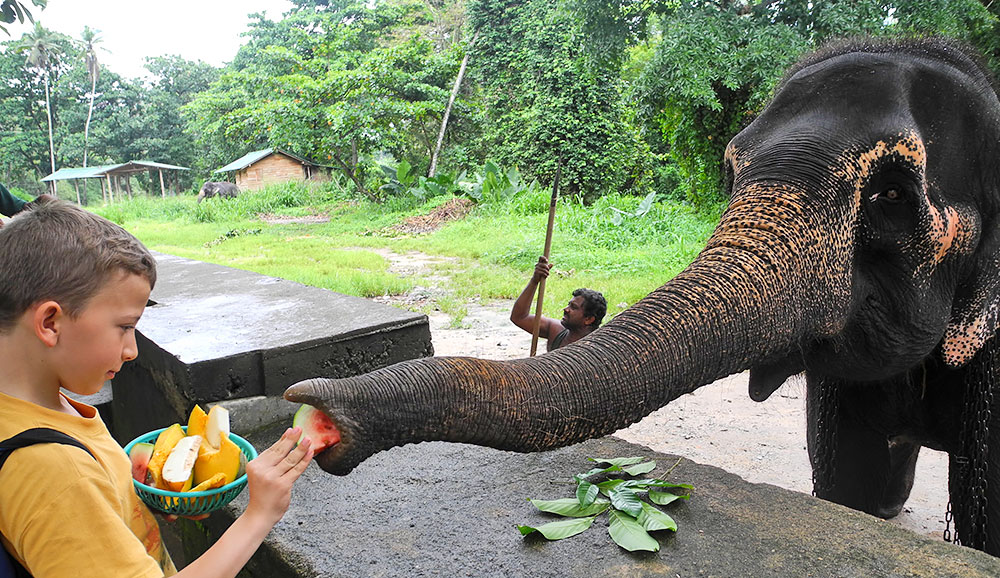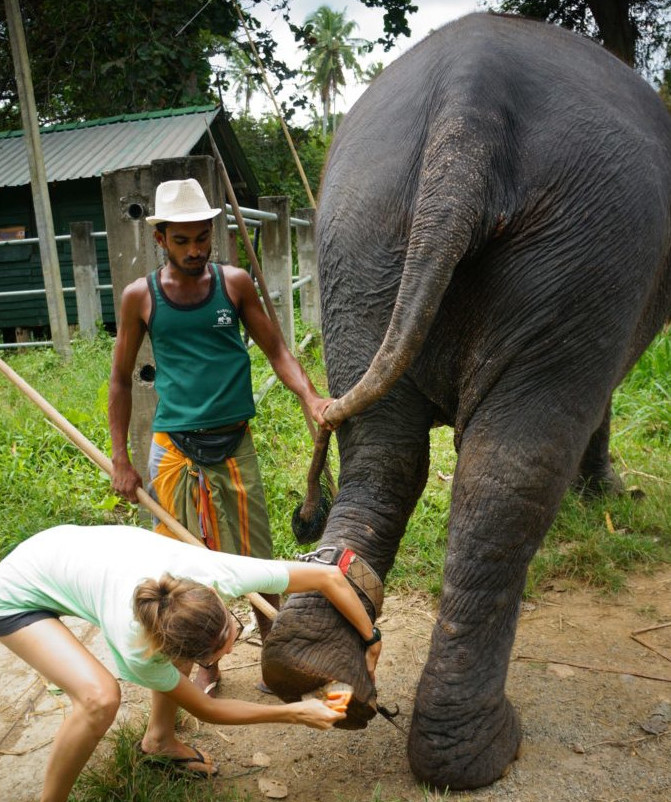 Sumana arrived at the  centre in September 2008. His condition requires a lot of treatment because of his numerous wounds. Since his arrival, he's been treated twice a day and he's much better. Sumana is nice, he never complains, even when his wounds are often treated.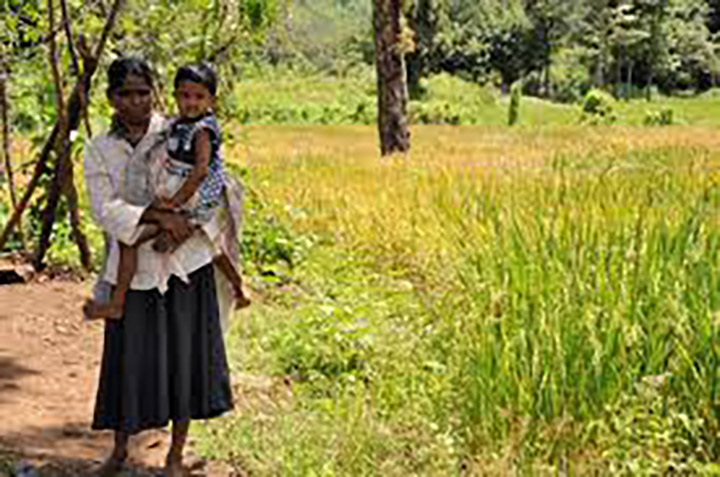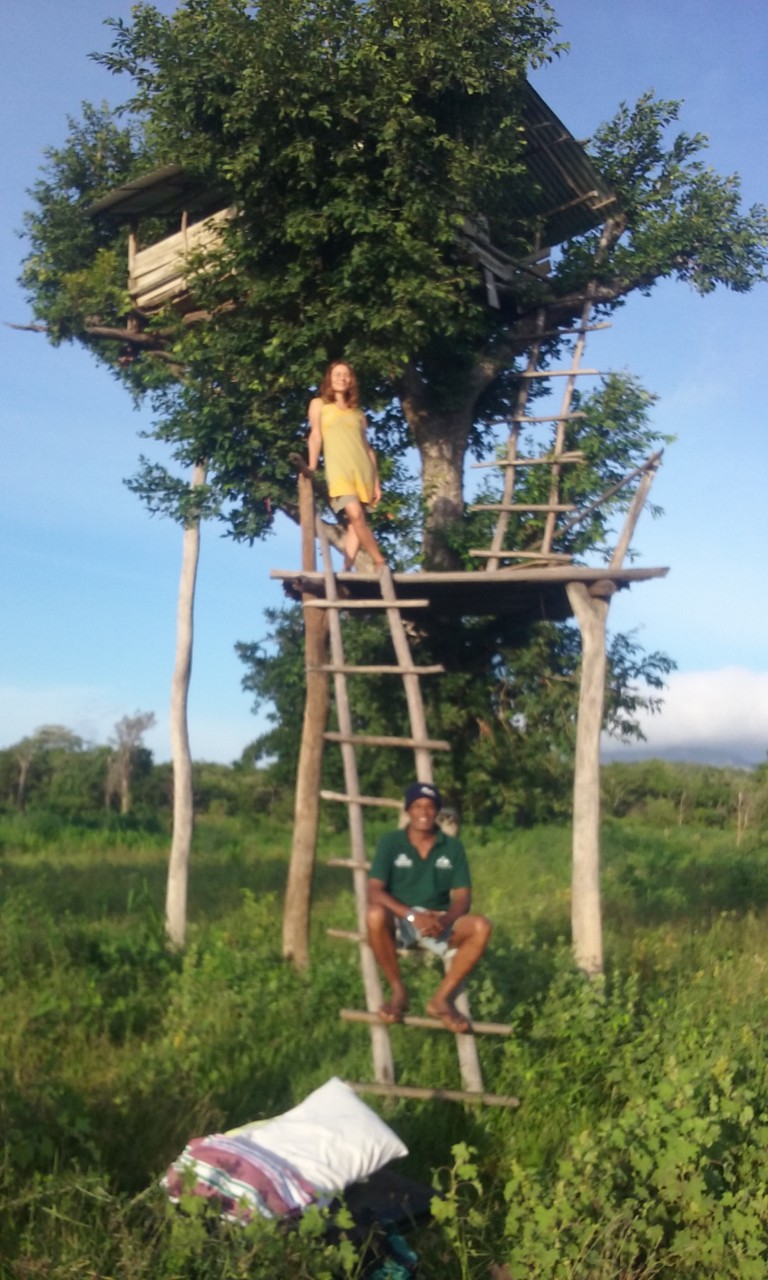 2. Supporting Habarana region project: Due to the growing settlement of the villagers in and around the elephant corridor, there are conflicts between humans and elephants. To alleviate this disharmony the Foundation has set up an educational programme for farmers and children in order to protect wildlife, while improving the living conditions of indigenous people (thanks to the funds raised by the visit of tourists to the foundation).
Explanation: The village of Weragala is located between four national parks and is entirely surrounded by the jungle. This means that the village is in the middle of an "elephant corridor", the ancestral migration route of elephants, hence Weragala is a hot spot for conflicts. In search of food and water, wild elephants pass through this village, situated between the reserves. Elephants often trample farmers' land and consume the food. In a matter of hours, elephants destroy the only livelihoods of the farmers and hours of dedicated work. Homes can also sometimes be broken. Unfortunately for these farmers and their families, there is no compensation. We support the farmers' demands such as the construction of wooden watchtowers to observe the arrival of elephants to better protect their crops. As human populations continue to develop, more and more natural habitats are being converted to make way for roads, crop land, bridges, schools, houses, new villages. This means that the natural habitat where wild elephants live is greatly reduced, leading to conflicts with humans. Here, humans and elephants compete for resources.
Last year, the man-elephant conflict led to the death of 200 elephants and 48 people. (Source: Forest Department, Sri Lanka)
The Asian elephant is an endangered specie. In Sri Lanka, there are about 4-5,000 wild elephants. We need to find ways to protect these last wild elephants.
An effective conservation strategy to ensure the survival of the Asian elephant must take into account the needs of indigenous people. Surveys have shown that if crop damage is minimized, farmers would not have any conflicts with elephants.
Habaranna project: Based in the heart of this community, volunteers work closely with local farmers to help them reduce human/elephant conflicts – providing natural solutions for farmers, workshops: training, education on effective farming techniques to improve crop protection while producing new resources. The use of traditional, more pacifist remedies can prevent crop damage while protecting elephants. Traditional methods are often used for economic reasons, but they are also the most cost-effective solution in the long run for local people. We use edible crops, such as chilli and orange plants, which have been proven to keep elephants away, to form a buffer zone to protect agricultural lands against hungry elephants. Bells and torches are provided to farmers to help them scare elephants away. Hives are also provided to families because elephants are afraid of bees, and this also allows communities to harvest their own honey.The goal is to help farmers change their views on wild elephants, no longer see them as parasites but as a source of income. For families who have suffered damage to their crops and their homes…a compensation is offered to help them through these difficult times. We are also setting up a wells in schools so that children can have access to safe drinking water.
4. Teaching: setting up school letter exchanges between local schools and French schools – for a few hours a week volunteers help these children write in English and raise awareness of the issues of biodiversity conservation. We also donate school supplies.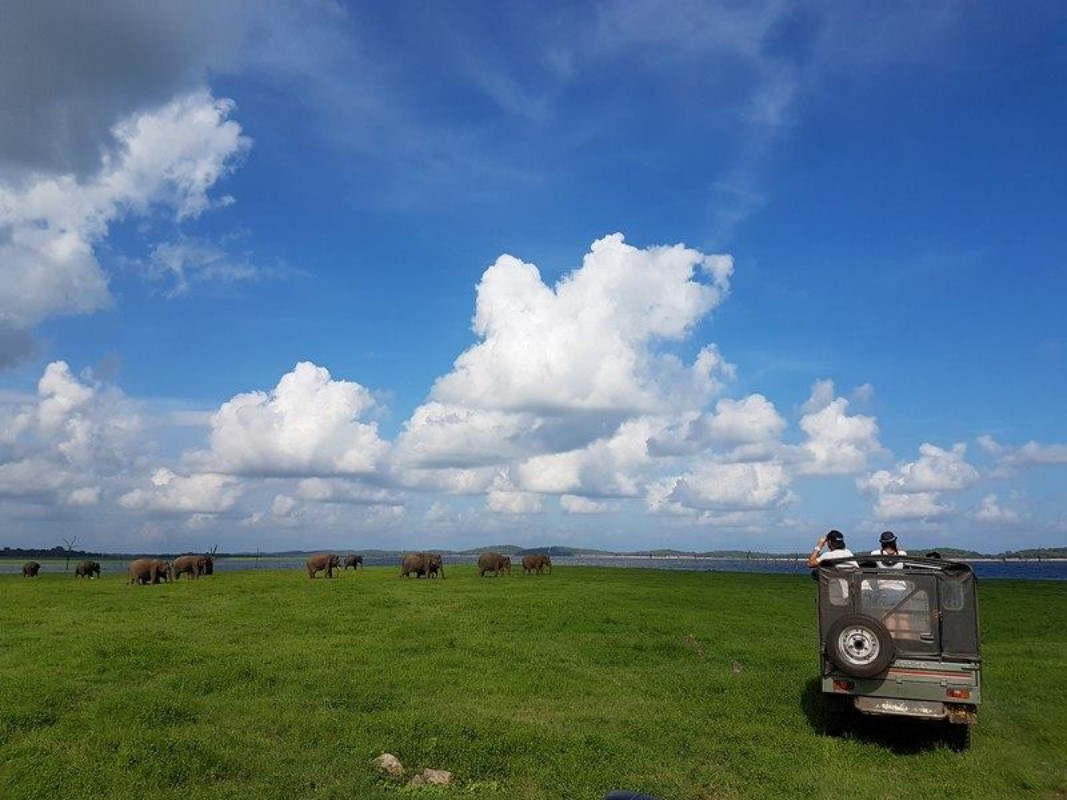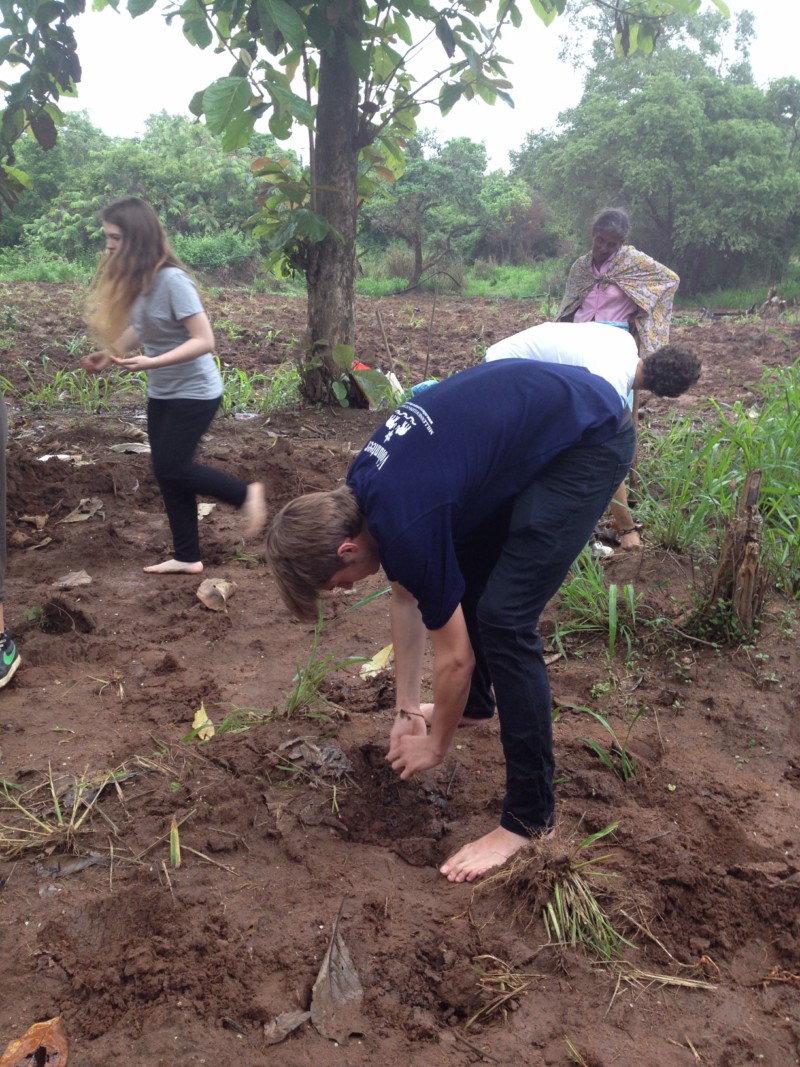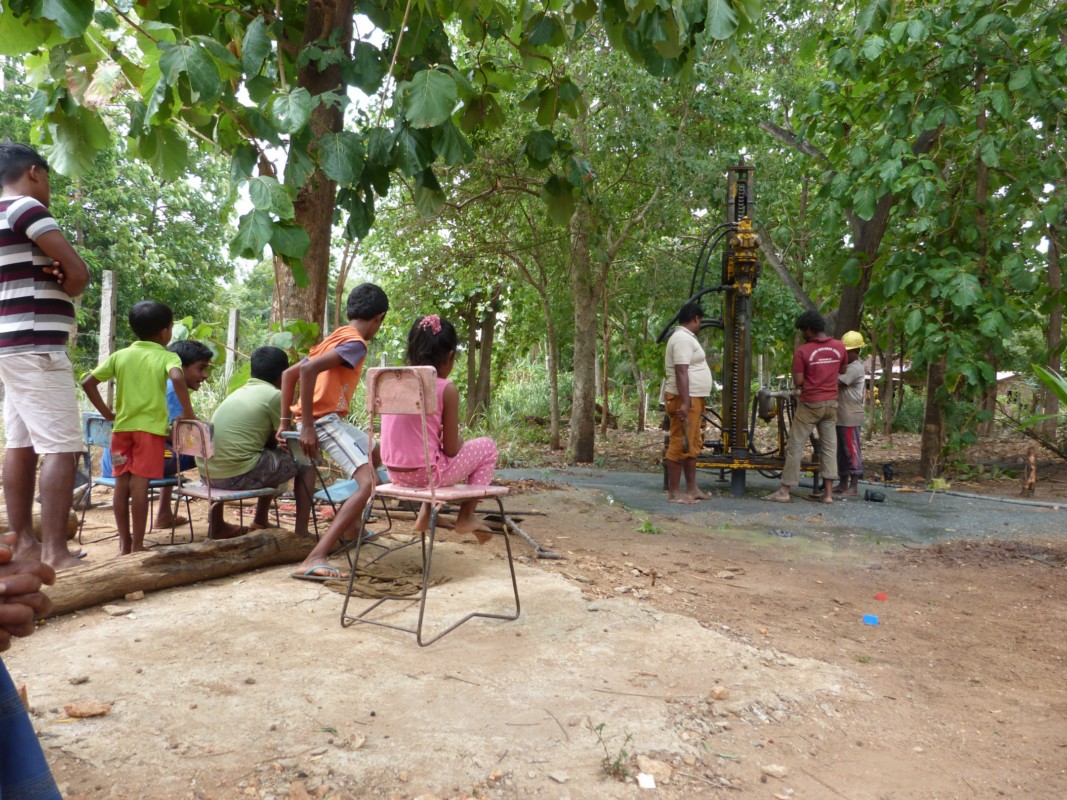 As a volunteer, you will have the opportunity to discover and immerse yourself in a different culture. You will be greeted by the warm and hospitable smile of Sri Lanka. You will have at least one day off per week depending on your workload. This will be an opportunity to discover Sri Lanka's rich cultural heritage and especially the beauty of the nature.
Cost of a voluntary mission (excluding airfare):
   1100 EUROS – 25 EUROS OF MEMBERSHIP, THUS 610 EUROS AFTER TAX DEDUCTION (only applies for French tax payers).
Mission fees are tax deductible. Article 200 and 238 bis of the general tax code.
The duration of the mission: 10, 15 days to 1 month maximum.
During your volunteer mission, SAS takes care of the transfer of the airport to the foundation, supervision during the mission with the communities, overnight stays, meals morning, noon and evening and local transport.
Online payment by Credit Card
The approximate ancillary costs of the mission: airfare (600 euros), visa (25 euros), vaccinations and compulsory medicines (100 euros). These fees attached to the mission are tax deductible. SAS organises mandatory pre-departure day training either remotely or in our offices. The training is provided by graduates in international solidarity (Humanitaire Institut Bioforce, Lyon).
We organize short-term missions to allow effective immersion on the community projects entrusted to you. Then it is up to you to extend your stay to discover the country. You are responsible for the costs of the activities on the day of rest.
Think about your refund and /or repatriation insurance.
Please contact us for any further information. Wish you a good preparation for the mission Delphine Thibaut
Phone: 06 73 76 60 13
contact@sensolidaire.org
Formality: You will need your valid passport (more than 6 months). Mandatory visa with the possibility of obtaining on arrival for certain countries. Advice for airlines to find you the best price: Turkish airlines, Air France, Emirates.
Health: Up-to-date vaccinations (and recommended – hepatitis A, Japanese encephalitis), your usual medications, sunscreen, sunglasses, local disinfectant, a medication for intestinal problem, multi-purpose antibiotic, eye drops, painkiller, bandages, tablets to purify the water, mosquito repellent…