International Volunteer Work in Amazon Peru
Since July 2021, our new partner Amazon Shelter has been hosting volunteers to help rehabilitate wildlife in the primary forest.
A rehabilitation and release center for wild animals in Tambopata, Peru.
The Amazon Shelter project focuses on the conservation of wild populations of woolly monkeys and ateles. At the same time, the local human communities are sensitized to the preservation of the last animals of the Amazon rainforest.
This site has a semi-liberty rehabilitation center to rehabilitate the primates in their natural habitat.
Rehabilitation
Nearly 75 primates are housed in their natural habitat in the center of Shiringal on 60 hectares of forest and are regularly assessed for their survival skills to measure their suitability for reintroduction.
Conservation of aquatic and terrestrial turtles
It is done in partnership with the National Reserve and the indigenous communities. The collection of turtle eggs is done in July in order to protect them from various predators. They will wait in the artificial beaches for their release in the National Reserve in October.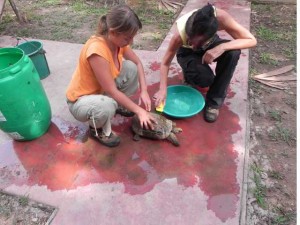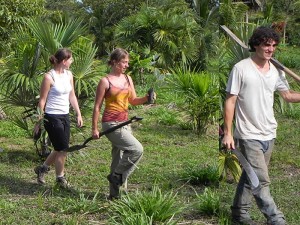 Reforestation program
Amazon Shelter continues to plant endangered wild species: white cedars, mahogany trees, wild fruit trees and palm trees that contribute to the plant and animal biodiversity of the center's 90 hectares.
School Outreach Program
The environmental education is aimed at the children of the village, whether they are in primary or secondary school. The work with primary school children is usually done outside of school hours in the environmental education center created by Amazon Shelter called "Casa Camungo" and this 3 times a week. In total we reach about 60 children per week.
Apart from these regular sessions, we intervene in primary and secondary schools in a more punctual way on specific themes. In this context, we reach a much larger public. This represents 1700 pupils at primary level and 600 pupils at secondary level.
"One of our activities was also to take care of a 4-month-old howler monkey named Maya, whose parents had been killed during a deforestation operation. We had to keep her busy, teach her to climb branches, and feed her.
She was too young to be accepted by the groups distributed in the enclosures and composed of a male, 2 or 3 females and their cubs. It is not certain that she can be released one day, given the impregnation she will have had with humans, everything will depend on her future adoption by a male. At night, Magali kept her with her and was woken up several times – like a human baby! The second one we had to take care of regularly was a female tamarin."
Discovering places and people in an authentic way means not being a spectator. The volunteer is not a tourist but a person who wishes to contribute morally and financially to the conservation of the Amazon rainforest and its biodiversity directly linked to the future of the indigenous populations.
We propose 15 days during which you will follow the Amazon Shelter team in its conservation activities according to the seasons such as :
Raising awareness about the aquatic turtle ecosystem, collecting eggs or releasing turtles with the help of indigenous communities.
Observation of the aquatic avifauna of the Rio Tambopata (dolphins, reptiles, snakes, piranhas…) 
Spotting groups of howler monkeys in primary forest, night outings for census of douroucoulis,
Observation of woolly monkeys and ateles in rehabilitation in the forest,
Care and feeding of parrots, toucans, tapir, primates….. welcomed before their rehabilitation in their natural habitat.
Field trips to indigenous communities to educate students about the urgent need to protect the Amazon and its inhabitants.
Do-it-yourself and paddock maintenance
The program is open to everyone from 18 to 77 years old.
A typical day
7:30 am – Breakfast for volunteers
8:00 am – Preparation of diets for the animals
8:30 am -9:30 am – Feeding the animals
10:00 am – Gathering wild leaves for howler monkeys
11:00 am – 1:00 pm – Specific projects – maintenance and repair
1:00 pm – Volunteer lunch
2:00 pm – Afternoon diet and feeding of animals
4:00 pm – Cleaning of pens and dishes
5:00 pm – Evening preparation – blankets and milk
6:00 p.m. – Volunteer rest time
7:00 pm – Volunteer dinner
20:00 – Evening volunteer activities or rest
Cost of a mission (excluding airfare) : 1500 EUROS + 25 EUROS MEMBERSHIP FEE IS 600 EUROS AFTER TAX DEDUCTION.
*The expenses of missions are tax deductible. Article 200 and 238 bis of the general tax code.
During your volunteer mission, the scientific organization takes care of your supervision at its base, (nights, meals morning, noon and evening and local transport) SAS takes care of your transfer Lima/Lagunas
The approximate additional costs of the mission: airfare (800 euros), vaccinations and mandatory medication (100 euros). These costs are tax deductible. SAS organizes a mandatory pre-departure training day either remotely or in our offices. The training is given by international solidarity graduates (Bioforce Lyon Humanitarian Institute).
We organize short missions to allow an effective immersion on the community projects that will be entrusted to you. You are then free to extend your stay and discover the country. You are responsible for the costs of weekend activities.
Flight cancellation and medical and/or repatriation insurance (including Covid 19) are mandatory.
Do not hesitate to contact me for any further information. Good preparation for the mission!
Delphine Thibaut
phone : 06 73 76 60 13
contact@sensolidaire.org
You will need your valid passport (more than 6 months).
Advice for airlines to find you the best price : Lan, air Madrid, swiss +, KLM.
Yellow fever vaccine is mandatory, an anti-malaria treatment must be prescribed by your doctor, your usual medication, sun protection, sunglasses, a local disinfectant, a medication against intestinal problems, a multipurpose antibiotic, eye drops, an analgesic, bandages, tablets to purify water. Mosquito repellent.
At the "AMAZON SHELTER" health center  Two bungalows made of wood and palm leaves each have 3 rooms with 3 beds and mosquito nets. Another bungalow in the center has two bathrooms (men and women) with 2 showers and 2 toilets each. The water is drawn from the river, so it is fresh! Hammocks are available, as well as a volleyball net.
The food is that of a population living in quasi autarky: fish, manioc, plantain bananas, chickens and fruits. Electricity is available from 4am to 7am and from 6pm to midnight.